Are you looking to access recruitment CRM software for Free? Giig Hire now provides Freelance Recruiters with a free recruitment CRM with no strings attached.
On Thursday last week, the Customer Relationship Management tool or Free CRM went live for Freelance Recruiters. Our mission at Giig is to support Freelance recruiters by giving you the software that you need to be successful.
In January this year, we launched a free Applicant Tracking System (ATS) which allows Freelance Recruiters to build and manage their candidate database.
Without spending a penny!!
However, we all know that managing candidates is only half the battle when it comes to recruitment.
What use is a free tool if it doesn't also allow you to manage your client and customer relationships as well?
This is why we've followed up by giving you access recruitment CRM for free.
The access recruitment CRM links to the ATS creating an all-in-one solution that allows you to manage both your candidates and clients in the same place. So you can keep track of everything you're working on, without the need to change platforms.
Before diving into the inner workings of the CRM I will leave you the links to both landing pages here, should you want to take a look at them.
If you do decide that the tool looks like it will add value to you, then you will only need to sign up for one account.
The CRM & ATS are connected products to make your life easier.
By creating one account you will gain access to both tools.
In the remainder of this blog, I'm going to cover off
Why we have built the CRM?
How can it be free?
What can you do with the CRM?
A quick summary of the ATS
How do you access it?
A video explaining the launch
What tools are coming next?
Why have we built the CRM?
As I mentioned in the intro to this blog, Giig is on a mission to help Freelance recruiters become successful by gifting you the free tools that you need to run your business.
The working world is changing rapidly as more recruiters are leaving agencies to set up on their own. More than ever, people want the ability to be their own boss and work from anywhere in the world.
Which is something we're keen to support.
We understand that when you are first setting out on the journey to become your own boss you're also being careful with what you spend. As a Freelance Recruiter, it's important to make sure that you're still managing your process correctly but this can be neglected if you don't have the money to pay for an expensive database.
This is why we are gifting you a free tool to get started!!
Something to help you start managing your process without breaking the bank.
At the start of this year (2023) we launched a free applicant tracking system (ATS), as a way for freelance recruiters to manage their candidates.
The ATS has no trial period and allows you to upload as many candidates as you like. You can use Giig's CV parsing feature to attach candidates to your database in a matter of seconds.
You can also skill and tag your candidates to make sure that they are easy to locate for future roles.
How can it be free?
One of the big questions that we always get asked is…
"How can it be free"
Which makes sense,
Giig has to make money somehow to pay the bills, and luckily for you, we have another product called the 'Giig Marketplace' which is how we keep the lights on.
The Giig Marketplace connects freelance recruiters to our clients that need the support of an external recruiter. We connect the clients and the recruiters through our platform and we keep 20% of the fee on any of the hires that are made.
Which is our way of making revenue to support the free software.
At the start of August 2023, we plan to launch a paid version of the software that will be available for people that want to pay for the advanced features.
However, our promise to freelance recruiters is that there will always be a 'Free Forever' version of the software.
As our mission is to support freelance recruiters to become a success.
What can you do with the CRM?
So let's dive into some of the details around what's available to you in the free CRM.
The 3 main functions of the CRM are:
Adding Companies
Attaching Contacts
Adding Jobs
We've tried to make it simple for you when it comes to adding companies, contacts, jobs and candidates to the system. Giig has a universal create button that can be found at the top of the platform.
Clicking on the create button will open up the menu which allows you to quickly add data to the system.
By choosing the company option you will be guided through the add company process where you can add a company by simply typing the name of the organisation. You're also given the option to add a Logo, Website, E-mail & Contact number.
After hitting the 'save' button the company will be added to your database where you can start to build a list of the companies that you are prospecting.
After adding companies, the next stage is to attach the contacts that you're prospecting or currently working to support.
Adding a contact is similar to adding a company. You start by hitting the create button, choose the contact option and then add the 'First' & 'Last' names of the person before hitting save. When adding contacts you also have the ability to add further details such as: 'Role Title' 'E-mail Address' & 'Contact Number'.
These details can be edited at any time.
The free CRM gives you the ability to add as many contacts as you like and they can be edited or deleted at any stage.
Which finally brings us to the add job process!
Once you've added companies and contacts, you can then start to add the jobs that you're working on and attach them to the relevant companies.
When adding jobs to the system…
Yes, you guessed it!
You head back to that magical create button.
When I said we tried to make it as simple as possible, I wasn't lying.
When creating a job it's important that you make sure you attach it to the relevant company.
As you add jobs they will then start building up in the 'My Jobs' screen. Which gives you an overview of the jobs that you are working on and how many candidates you have sent to each role.
Using the actions button found on this screen you can edit or close jobs as they are filled over time.
A quick summary of the ATS
If this is the first time that you have stumbled across Giig and the software that we're creating for Freelance Recruiters then you will also be unaware of the Free ATS that we launched earlier this year.
In January we launched a free applicant tracking system as a way for recruiters to start building, tracking and managing their candidate database. When starting up it's important that you have a place to store and track your candidates.
Like the CRM… The ATS is also Free for you to use,
It allows you to parse CVs into the platform, skill your candidates and send them to the jobs that you have open with your clients.
There is also an interactive interview pipeline board which allows you to drag and drop your candidates as they progress through the interview stages.
How do you access it?
Accessing the CRM & ATS couldn't be easier. You can sign up in a matter of minutes without a credit card.
All you have to do is head to the ATS or CRM landing page and click on one of the 'Sign Up For Free' buttons.
After clicking 'Sign Up For Free' you then have to choose the 'Recruiter' option and the platform will then start to guide you through the sign-up process.
After completing the sign-up process, you will then have full access to the CRM & ATS and can start to build your businesses. Both tools will be accessible through one account.
Here are the links to the pages, should you be keen to take a look:
A video showing the launch
Are you keen to see a demo before you commit?
Alongside writing weekly articles we also upload weekly videos to our Giig Hire YouTube account, talking about the new features and products. Whilst also showing you how easy they are to use.
Click on the image below to watch the intro YouTube video. You will find all of the other videos attached to the YouTube channel.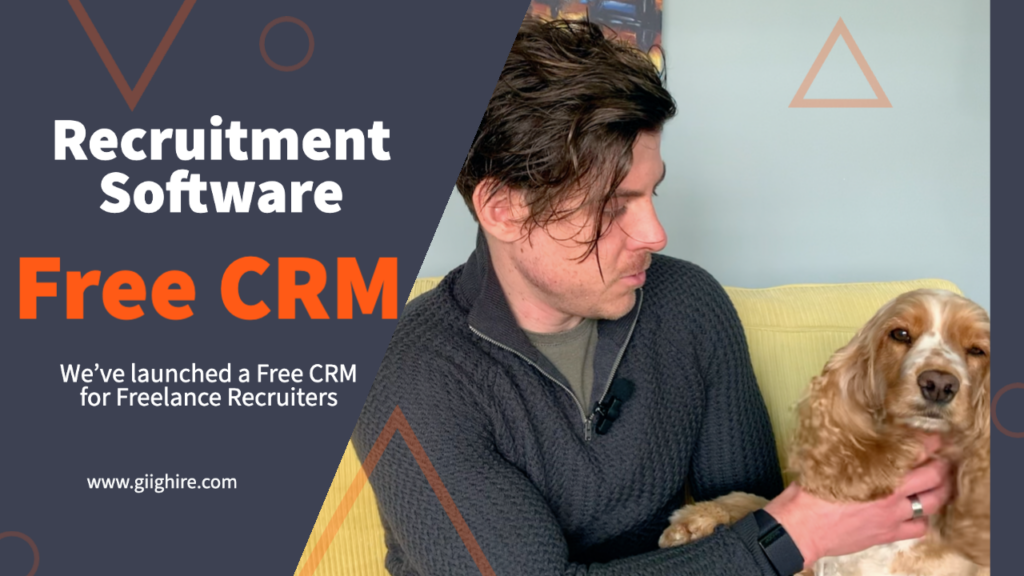 What tools are coming next?
When we launched the Free ATS in January this year, we realised that it wouldn't be enough to only have the ability to manage candidates.
Which is why we built the CRM to support it.
Moving forward we are keen to keep bringing more value to the Freelance Recruiter community and think that we have some more value-adding tools in our product roadmap.
The next product in production is…
Alongside having the ability to manage Companies, Clients & Candidates we know that recruiters also need a website. Somewhere where you can showcase, who you are and what you do!
Building a website can not only be expensive but can also be complex and time-consuming.
This is why we are building a free website builder that will allow a freelance recruiter to create a webpage in a matter of minutes which will be shareable to prospective clients.
On top of this, the website will also have the ability to collect candidate reviews.
You will get a shareable link which you can pass on to candidates you have worked with in the past so that they can leave you a review of your work.
These reviews will then start to stack up on your website.
This will help you create a portfolio of your work something that you can share with prospective clients and candidates to showcase you have the ability and can be trusted to do the job.
The free website will also have the same functionality for collecting client reviews. You will then be able to connect your client reviews to your website and show the client logos should you wish to.
This is a great way to show people some of the brands that you've worked with in the past.
The next feature to follow the free website builder will be.
Goal Setting & KPI Tracking
When starting as a freelance recruiter you will spend a lot of time initially working on your own and one of the most important things is to keep yourself accountable for hitting targets.
The first stage to successfully achieving your goals is that you need to have a place to write them down and monitor them.
It's the age-old cliche of…
"Failing to plan is planning to fail"
When working solo it's of the utmost importance that you have the discipline to hold yourself accountable.
You need to start by sitting down and thinking about what your goals are and then store those goals in a place where you can refer back to them daily, weekly and monthly.
To see how you're progressing.
These are just 2 of many features that we have in the pipeline and as time goes on I will provide more insight into what's coming next, so that you can see our commitment to continuously improving the software that we gift you.
Even when we do launch the paid-for software in the summer we will continuously be improving the Free Forever version to keep on providing more value and new features.