When starting out as a Freelance Recruiter the first activity on your list should be building a recruitment database, candidates will be the lifeblood of your business and you must find a way to keep track of people you're building relationships with accurately.
The issue is…
Paying for a candidate database can be expensive when you first start out, which is why freelance recruiters often opt for managing their candidates on Excel.
In this blog, I will explain how you can access a free recruitment database and why it's important that you start to build one.
So let's start with the juicy stuff!
How can you get your hands on a free recruitment database?
You can get your hands on a free recruitment database in a matter of minutes!
At Giig we're on a mission to support Freelance Recruiters by giving you all of the software you need to break away from working at a recruitment agency to become successful on your own.
Giig's free recruitment database gives you unlimited candidate storage and has no trial period.
So you can make use of it for as long as you need to, without worrying that your time will come to an end.
You can sign up today by clicking on the link below and following the signup process:
What's available in the free database?
After following the signup process, you'll get instant access to the free recruitment database where you can start adding, candidates, companies & contacts.
I will now take you through some of the key features available to you
Unlimited Candidate Storage
As I mentioned earlier you can start to add and track as many candidates as you like without restriction or fear of losing access after a trial period.
To add your first candidate you click on the create button found at the top of the platform and pick the candidate option. This will start the create candidate process which allows you to upload a candidate in a matter of seconds.
CV Parsing
In the create candidate process you will see you have the option to drag and drop a CV into the platform or upload a PDF that you have on your desktop.
By uploading a CV into the CV parsing feature the platform will scan through the document and extract the candidate's key details. Including their key experience skills.
Making sure that your candidates are skilled correctly is one of the most important things you can do, as this will allow you to find candidates in the future by searching for them in the database.
This brings me to the next feature included in the free database…
Candidate Skill Search
If you have skilled your candidates correctly when you upload them you will be able to quickly locate them again in the future if you have a new role that could be suitable for them.
The Giig database has a universal search bar that can be found at the top of the platform. If you enter the skills that you're looking for, the system will filter candidates by those skills presenting you with a relevant list containing candidates suitable for your role.
This allows you to quickly find suitable candidates in your database when you get a new role with one of your clients.
So to make sure that you can quickly filter your database you must add the correct skills to the candidates when you initially upload them.
Mass Candidate Upload
If you are a recruiter that already has a database or has been using Excel to track your candidates, then we have a way for you to quickly upload them to the Giig free database via our mass upload feature.
To access this feature you must first click on the candidate's tab in the main taskbar and choose the database option.
This will take you to the candidate database where you will see an orange button titled 'Import Candidates'.
Clicking on this will take you to a screen where you can upload your Excel spreadsheet which will then be imported into the Giig database. It might take a few hours for this to complete but after it's successfully uploaded you will have access to all of your candidates in the same place.
Keen to see it in action?
If you're someone that likes to take a look at a quick demo video before signing up, then you can find a quick demo video of the database and other explainer videos on the Giig YouTube.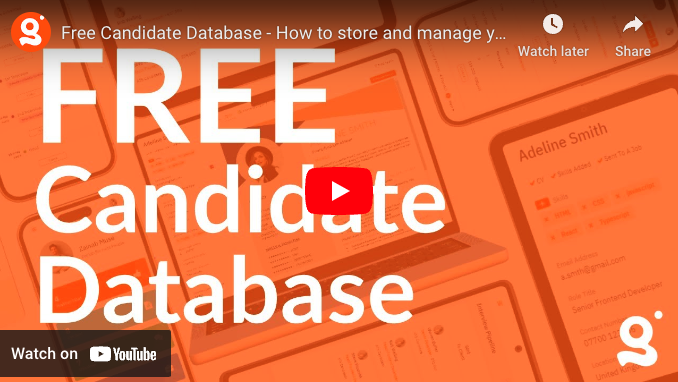 So there you have it!
That's how you can gain access to a free database without any risk or upfront cost!
After covering all that, I guess we should talk about…
Why it's important to build a candidate database!
Building a candidate database will make sure that you're a proactive recruiter rather than a reactive one.
So, what do I mean by proactive?
If you search the word 'proactive' in Google it returns the definition:
"Creating or controlling a situation rather than just responding to it after it has happened"
Too often in the recruitment industry, recruiters work in a reactive way rather than a proactive one. It's easy to slip into the habit of winning a new job with a client, trying to fill it and then quickly moving on to the next thing when you find a new role.
If you work like this you are constantly starting from scratch each time you have a new position to fill which makes your life as a freelancer harder.
By building a candidate database and storing all of your candidates accurately you are building a selection of people that you can always circle back to when you have a new role for them.
Recruitment and sales are all about relationship building. Understanding what the candidate is looking for and keeping in contact with them until you have the perfect opportunity.
It's a key activity if you're going to be reactive!
If you manage your candidate database on Excel it can become very hard to keep on top of things. Trying to search for candidates on a spreadsheet is almost impossible.
If you find yourself doing this, it means that you've become a reactive recruiter and you will end up missing out on placements because you will easily forget about candidates that you have previously spoken with.
Building a candidate database is a very simple activity, it's easy to do and it will give you the biggest chance of success as a freelancer and now that you know about Giig's free database…
You really have no excuse to get started!